CROCODILE
INTERIOR CLADDING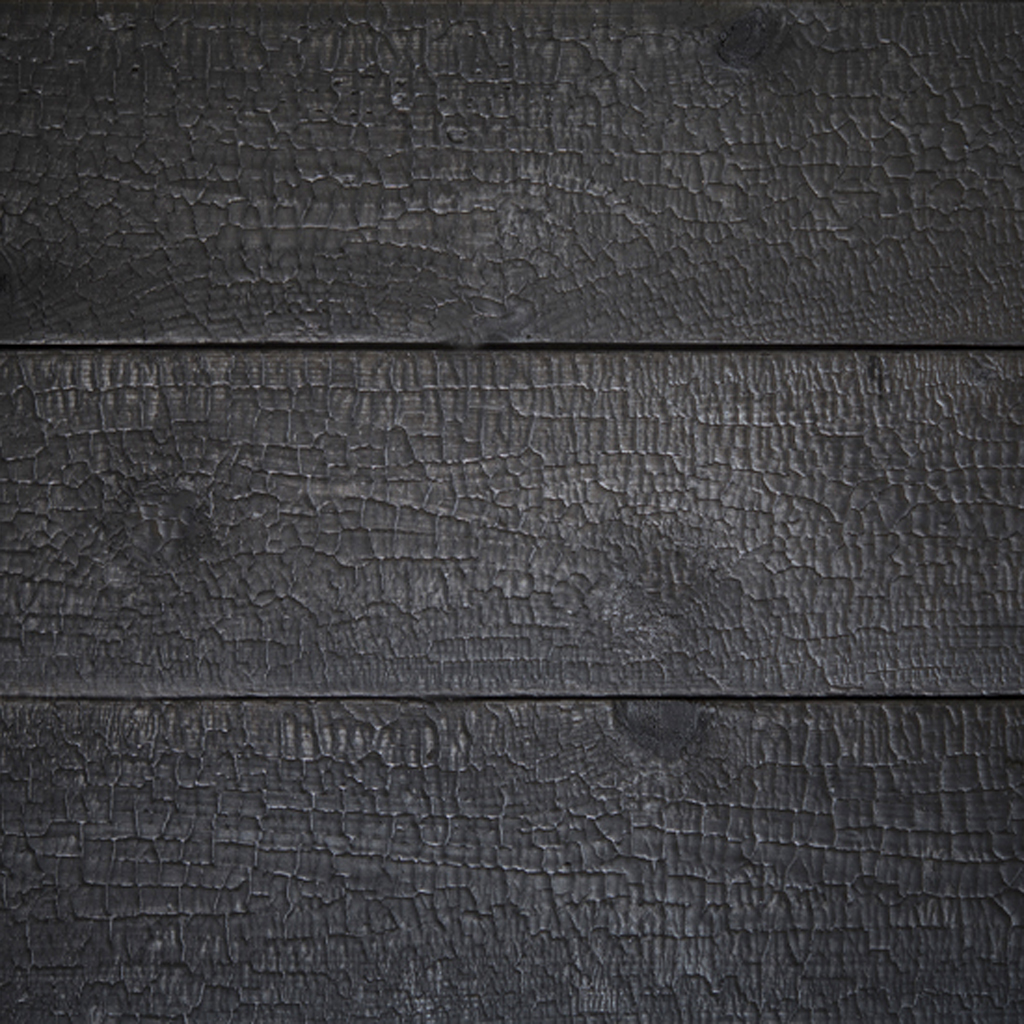 Charred wood is a living product – depending on the chosen finish, the colour will fade differently over time. The fiber ages beautifully and like a masterpiece, it develops a singular patina. You can let the wood grain naturally acquire its "ecological" patina. 
Our Crocodile finish is as charred, i.e.  without brushing off the soft external charcoal layer.  Depending on its exposure to UV, the Crocodile finish might fade over the years from black toward grey shades. A reapplication of the top coat will blacken the charcoal. These images are just to give you a glimpse of the possibilities.
Click top button ORDER NOW for a sample kit (12 pieces), or visit our online store. 
Application: interior & exterior
Species: Eastern White Cedar 
Profile: square
Finish: charred and sealed 
Application: interior
Species: Eastern White Cedar /Western Red Cedar
Profile: V joint (Western Red Cedar)
Finish: charred and sealed 
Durability – The phenols and thujaplicin naturally present in Cedar repel insects, act as a fungicide, prevent rot and even water infiltration. These properties increase its durability.
Stability – Unlike other softwoods, Cedar is very stable, which means that it is less likely than other species to twist, crack or warp. The final product's shape will therefore remain intact for decades.
Warranty & Installation Guide
We work exclusively with Cedar, which in itself is a guarantee that you'll be worry-free for 25 years or more against wood rot. The products we offer are maintenance-free, but you can choose to treat your wood cladding with oils to keep its original color. In fact, some of our clients find that the wood's natural ageing process is in line with their environmental values. Others who prefer their cladding to remain as close as possible to its original colour can, after a soft water brushing (no sanding), apply another coat of natural oil with UV protector, on an as-needed basis (we recommend every 5 years). Take a look at our installation guides to know how to make the best use of our cladding.
Contact us if you need more information about the warranty: 1.418.866.1021